in the afternoon is always too early or too late to do anything. Nitesh, a young man & his brand new car were steering through the calm streets of Pune City. Sunday afternoons are usually quieter than any other weekday, this sobriety after the 5 days of cacophony is common with almost all the metropolitans in the country. Pune is no different; Nitesh who recently moved from Delhi was trying to fit in. He was trying to feel the beat of the city like any new expat. He was excited and hopeful for his new life. He was new to the city.
Millions of Indians each year move from one city to another in search of better job prospects, lifestyle, career; in short, they move in the quest of an enhanced living. There are very few cities in India, which are favoured more than others when it comes to migration. Pune is a magnet for seekers. Once the pensioner paradise, now gets the lion's share of migrants each year. Evolved and advanced health, education, and industry infrastructure and an outstanding law and order apparatus make Pune one of the best cities to work and retire. It is said that once a person gets the pulse of this city, they can never return to their hometown.
Pune is a keeper.

Nitesh had read and heard a lot about the city but never in his 27 years of life ever had a chance to visit. He recently landed a prestigious project in one of the most coveted MNCs of the world and was shipped to Pune from the Indian capital. He was the new ex-pat and like any newcomer, he was scanning the city, not just looking around. He wanted to know everything about anything which had "Pune" mentioned in it. People say, walking through the city roads tells more about the place than anything else. Nitesh wasn't a walker but loved to drive. He chose to drive but not alone.

Lokesh had come to Pune for his graduation and never went back to his hometown. For the last decade and a half, he called Pune his home and himself a true Punekar. He stayed with his family in Wakad (a very vibrant residential area) He was a few years older than Nitesh, and his first cousin.
That day, Nitesh had invited him over for lunch followed by a drive on his new mean machine. Brothers had met after many days, they talked about cars, sports and simply gloated in nostalgia.
Lokesh insisted on ordering local food: Puneri Rassa Mutton and Bhakri. Some say it is the best mutton dish in the country and since nobody was there to dispute the claim, they feasted on it and then as planned, instead of a noon siesta, they hit the road to explore, explore the city of Pune: They had different roles though, Nitesh was an explorer who wanted to understand the city and Lokesh was "in love with the city" tour guide.
It was a dull and cloudy day. Streets were empty, shops were half-closed or half-open, no one could tell with those shutters hanging midway. Half shutters: one wonders why people do that, keep the shutter hanging; it looks like they lack purpose in life as they convey nothing, or do nothing meaningful.
Nitesh was looking out like a curious child. Lokesh who on the other side was not interested in what was happening outside the car, he was busy fidgeting with switches on the armrest & was enjoying the new comfortable bucket seats. Nitesh was amused by the outside world, Lokesh was delighted by the world inside the car.
The dichotomy of their perspective for the city is not hard to understand, Lokesh being the resident often took many things for granted, like he knew the streets are bound to be dull at 3 and found nothing unique about it. Nitesh who had only acquired knowledge about the city was amused with the calmness of this metropolitan.
It was more than 30 minutes, and they drove with no direction and in complete silence. At last, Lokesh broke the ice and asked Nitesh to drive towards the Mumbai-Pune Expressway. Expressway single-handedly has brought more changes to the city's fortune than any other infrastructural project. It has halved the travel time between Pune and Mumbai and changed the city from being a pensioner's paradise, Oxford of the East, to the silicon valley of the east: a major IT and ITEs hub of India.
Lokesh explained the significance of the e-way and how in the last few years the city had developed around the IT park of Hinjewadi and e-way. He shared a few stories about how his associates bought their homes at a price that is now unthinkable and some who made a lot of money by just investing on time into the booming real estate of Pune.
Nitesh was a good listener, he kept reacting with amusement while looking around, many "WOWs" were not part of the conversation. Lokesh continued and then like any good elder brother suggested Nitesh invest in a home and buy an apartment for self-use, now that he had a great job. Nitesh found the idea interesting and promising.
Real estate investments are usually tricky, especially in a new city, it can be a total nightmare. Nitesh was lucky, his cousin was around. Showing earnest interest in the idea coined by Lokesh, he asked him about the processes and how to go about the entire journey of buying a new apartment for himself.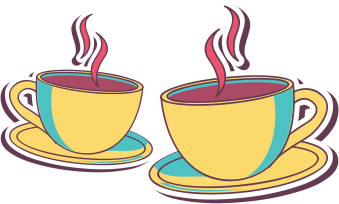 Lokesh, an investment banker by profession, was a keen reader of economics and was adept at making such financial decisions, he asked Nitesh to pull over at an "Amrutlya" Chai as he wanted to explain the process in detail.
Amrutulya Chai stores are part of Pune's identity. Many small tea shops spread across the city serve hot tea and cream rolls. More than their tea, Amrutulya stalls are famous for their conversations. It is one place where the social-economic divide of the city was absent, people from every stratum of the society enjoy spending time, talking about politics, life, love and whatnot over a hot cuppa tea. They pulled over and asked for "2 cuttings"; a half cup of tea is called a cutting in Pune and parts of Maharashtra. Poetic justice as it makes complete sense of cutting things in half.
Lokesh had structured the process of buying a home, tips, and trivia, some from his own experience, some acquired. It was all there in his mind and he needed a pen to put it down on paper. He reached out to the front gloves of the car and pulled an A4 sheet of paper, some rates and calculations were already penned on one side, but the other was awaiting to be inked with the most important ballad of Nitesh's life. Lokesh clicked his pen and started to write:
How to Buy an Apartment in Pune
Choose the location nearer to your workplace

Look for what you need than what you want in the amenities

Check the history of the builder, go for brands who are presented for many years, min 25 years and above.

Look for an ecosystem, like schools, hospitals, shopping centers, etc around the project

Compare cost vs carpet area of the options

Look for easy financing

Connectivity in terms of public transport

Visit other projects made by the chosen builders, read up about them on the internet.

Try engaging with the owner of the brand before making the purchase decision.

Buy to live a good life and not to compromise.
Lokesh scribbled, folded it in the middle, gave it to Nitesh, and asked him not to read it immediately, but when he is home and has time to read it in detail as this is going to be one of the biggest decisions of his life.
They both enjoyed the tea and had hearty laughs on some of their old memories. It was getting dark, Lokesh had to reach home, his daughter had some plans for dinner. Nitesh offered to drop him, they both got into the car and hit the road again. Only this time, Nitesh was excited to reach home and read what Lokesh had written on that piece of paper.
Today, Nitesh took the first step of being a Punekar. He thought of buying his own home in the city. He shall soon call himself a resident and not just an expat who is NEW TO THE CITY.