"Boredom is a pattern, not a reality."
As social beings, we choose boredom even when it's not our reality. We spend our days doing the same thing over and over again. Ultimately, getting bored. Read on to find out if you're consciously choosing to stay bored and how you can switch it up!
You spent your Sunday with school friends reminiscing about the good old days. You feel recharged but while returning home, you are brought back to the present. You question why the weekend only has two days; wishing there was another day between Sunday and Monday. For the next weekend, you are determined to do something new, even if it's as simple as watching the latest movie in the theatre.
When you're at work, Monday is the longest day of the week. To top it off, you're stuck in traffic for more than forty-five minutes. The wait makes you hungry, irritable and bothersome. You think about what you'll watch while eating a hot meal. You browse various OTT platforms but nothing quite interests you. Your food has gone cold but you still haven't decided what to watch. Entertainment is looking your way but you just aren't in a mood.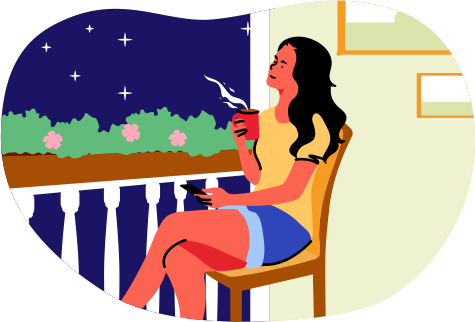 The hustle culture, over time, is monotonous. So much so that you don't remember the last time you stepped into the balcony and looked up at the stars. Quality time doesn't only mean having fun over the weekend. It also means prioritising what makes you happy every day.
It's been four days but it feels like 40. But thankfully, the weekend is back. This time you've decided to make it better than the last. You start searching for clubs in Pune and you call your friends, too. But as soon as you reach, the DJ plays lifeless songs that you don't relate to and most definitely doesn't make you groove. Your level of enthusiasm falls to zero. You begin to think that the only way you're living life is over the weekend. Every Monday, you think that Friday is still four days away.
It's not working anymore.
This weekend, check out one of the most happening projects at Wakad. Switch the Vibe as you jump into a colourful life; where the beginning of a new dawn is a new life.
Every day is a Friday. Every night is a movie night. Every star is a superstar. Every song is a symphony.
Introducing My Home Wakad, closely located off Mumbai-Pune Expressway, is an ecosystem of thoughtfully crafted homes and one-of-a-kind amenities like an Open-Air Theatre, watching sports matches or screening movies has never been easier; a Party Lawn for all your picture-perfect moments; a Gymnasium for a strong physique and a happy mind; a Stargazing Observatory for all the magic that happens in the cosmic universe; a Sky Lounge to unwind with your loved ones; a Music Room to enhance your musical talent and a Co-Working Space to efficiently work from home.
All this, and much more for you to have a carefree experience away from boredom & closer to a happening reality.
#SwitchTheVibe at My Home Wakad.