Time management and work from home set ups
Managing time effectively can be a troublesome issue while working from home. Kids, partners, parents, pets, everyone and everything wants to lure you into spending time with them during the work hours.
And when the work hours are done, it can be really tricky to turn off the work mode and turn on the family mode. Managing two different lifestyles within the same space has been a struggle for many.
Today we will discuss a few pro tips which will help you manage your Time effectively while working from home:
Use time tracking tools: If we go by the saying, 'we cannot manage what we cannot measure', keeping a track of time spent doing different tasks becomes really important. When we actively monitor how our time is being used up throughout the day, we will definitely be able to point out certain processes and tasks which are unnecessary but take up enough time to have an impact on overall efficiency. Make sure that keeping a track of time in itself doesn't become a tiresome task leading to more inbuilt frustration.
Planning out a day to day calendar: While working from office a simple to do list does the job of managing all tasks and projects, but when we are working from home, several house related activities might eat up a few work hours. The best way to manage this effectively is to create a day to day calendar where we not only include important work-related tasks, but also include other general tasks which we will be taking up that day. This will present an overall big picture of how your day is going to pan out, leading to lesser stress and better results.
Communicating without physical presence: Communicating remotely is completely different from how we communicate in person, our emotions and intentions are often not visible to the person on the other end leading to confusion and miscommunication.
Several employees switch to excessive communication to compensate for the lack of physical presence, which starts eating up into their valuable work hours and reduces their overall efficiency.
The best way is to discuss things openly with your fellow team mates, while making sure that everyone is contributing in the discussion. Providing feedback from time to time also helps in assuring that everything is going smooth and as expected, and there is nothing to be alarmed about.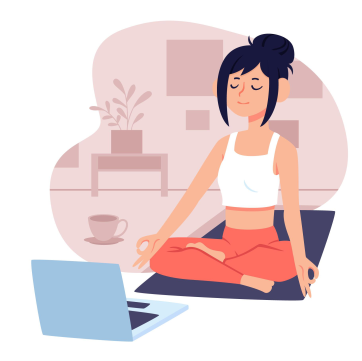 Managing stress and anxiety: Stress and anxiety numbers have shot up ever since the new normal of working from home has arrived. Though many companies have identified the issues and have taken precautionary measures to cut down on their employees work hassles, this is going to be a long fight. You can check out our blog "Yoga and Meditation - Food for the mind, body and soul" to learn more about the state of yoga and meditation while working from home.
Request for flexible working hours: If your work permits and there is a scope of working flexible hours without hampering the business, it is always advised to request your seniors to let you work flexibly as per your convenience.
Apart from all these operational and work-related struggles, the society and home that you live in play an important role in providing the perfect work from home setup.
MY HOME by Goyal Properties has been developed with an intent to provide a holistic work life balance to its residents. Better management of Place, Time and Value are the three aspects that
MY HOME supports integrally. MY HOME is inspired by YOU and your need of a perfect work setup, and hence we are also introducing a Co-Working space with all the amenities to make your life even better and rewarding. If you are looking for your next or a new home, don't miss out the opportunity to experience the lifestyle at MY HOME, Kiwale.